Main content starts here, tab to start navigating
Great food, house-made desserts and fine handcrafted brews
The unique dining, beer-sampling, banquet and catering experience in the heart of Valencia, Santa Clarita California. Great food, house-made desserts and fine handcrafted brews make Wolf Creek Restaurant & Brewing Company one of the best places to eat and drink in the Santa Clarita Valley since 1997.
Dine In (temporarily closed)
Letter from Owners:
I want to start by thanking all of you who have supported us at Wolf Creek over this crazy year. We would not have made it this far without you. It is noticed and greatly appreciated!
___________________________________________________
As most of you already know, the County has called for all restaurants and breweries to go back to take-out service only beginning at 10 pm on Wednesday night November 25th due to the rising case numbers of Covid-19.
___________________________________________________
We, at Wolf Creek, will adapt – as we've done all of 2020 – to continue to take care of our guests in the best way possible while continuing to keep our employees safe. To start, we are increasing our delivery radius – and that includes delivering our award-winning beer as well as our delicious food! You can order from us online and stay tuned as we are working on 3rd party partnerships to expand our delivery capability even further. Again – we thank you all for your support and will continue to need it in the coming weeks!
At the brewery, we will be open for take-out only from 1-4 on Saturday and Sunday. Remember, you can get the cans at the restaurant or order online for delivery! If you need kegs for your kegerators, please feel free to email me directly laina@wolfcreekbrewery.com and we can coordinate pick up.
Please keep your families safe and well! We look forward to "seeing you" in whatever capacity we can in the coming weeks!
Sincerely,
Laina McFerren
Co-Founder, Wolf Creek Restaurant & Brewery.
Front Door Carry Out
Call us with your order.
You can walk-in with a face covering and carry out your food through our front door. We are keeping it old school, and you can still talk to a real person in our actual restaurant.
Catering
We Have a Catering Van.
Cool, right? Point is, we can bring the party to you. Deliver and set up. Let us do the heavy lifting.
ORDER ONLINE.
We will Deliver to your porch.
Send us your order digitally, and we will make sure your order arrives sealed and brought right to your porch!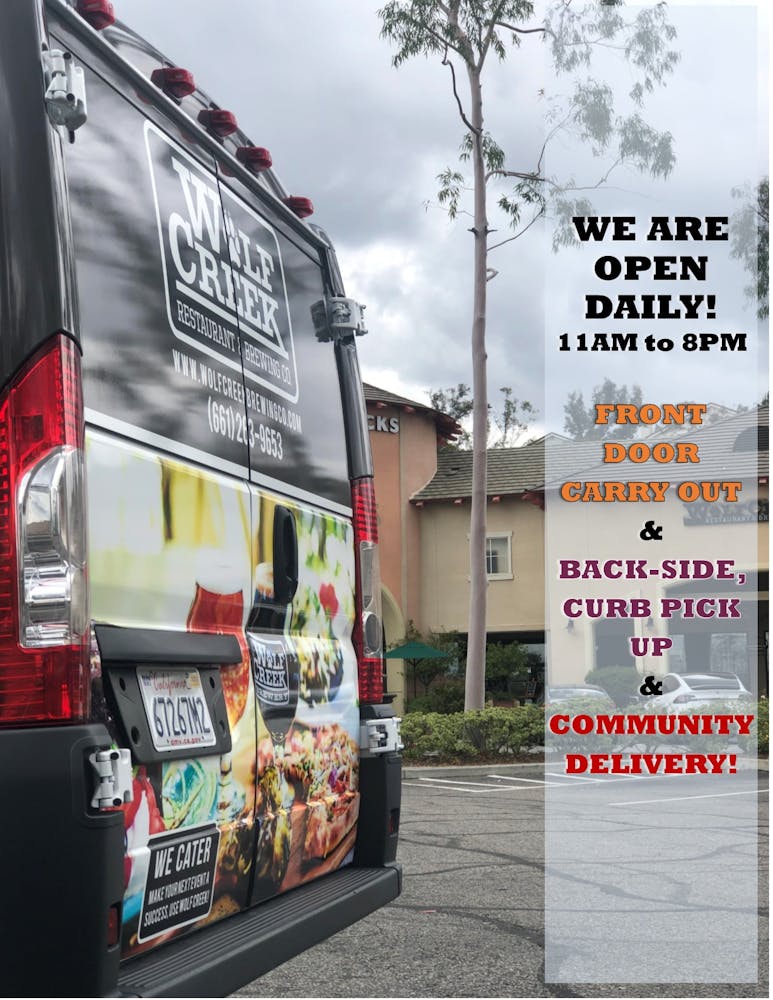 PAY ONLINE.
You can pick up at our Back-Side.
No payment transaction (you paid in advance). SO JUST DRIVE BEHIND RITE AID SIDE: and you can stay in your car- we will review the order and put it in the trunk or your back seat.